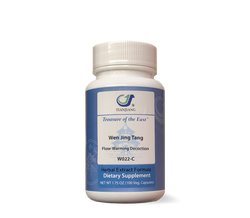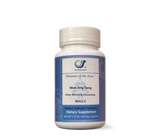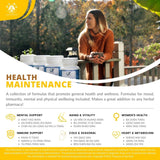 Wen Jing Tang - 温经汤 - Evodia & Cinnamon Combination (Capsules)
Log in to see prices
Full-spectrum, water-based herbal extract; concentrated 5:1 in capsules (100 capsules per bottle)
Item Number: W022-c
Chinese Name: 温经汤, Wen Jing Tang Capsules
English Name: Evodia & Cinnamon Combination
Formula Principles:
Warms the channels and dissipates cold, dispels stasis and nourishes blood, warms the menses, regulates menstruation, dispels cold, warms the channels, nourishes the blood, dispels blood stasis
Ingredients:
Wu Zhu Yu (Zhi)
Evodia Fruit (Processed)
Dang Gui
Chinese Angelica Root
Bai Shao
White Peony Root
Chuan Xiong
Chuanxiong Rhizome
Bai Shen
Ginseng Root
Gui Zhi
Cinnamon Twig
E Jiao
Equinus Asinus

 

Gelatin
Mu Dan Pi
Moutan Bark
Sheng Jiang
Ginger
Gan Cao
Licorice Root
Ban Xia (Fa)
Pinellia Rhizome (Processed)
Mai Dong
Ophiopogon Root
TCM Pattern:
Blood stasis due to cold with deficient cold of the Chong and Ren channels, obstructive blood stasis marked by menstrual spotting or purple menses with clots
Dosage
Take 4-6 capsules with water  2-3x daily. 
Treasure of the East's herbal extracts are full-spectrum, water-based extracts produced by Tianjiang Pharmaceutical. Unlike standardized extracts, which contain a concentrated quantity of a single marker chemical, full-spectrum herbal extracts contain all the active chemical constituents of whole herbs in concentrated form.  Treasure of the East herbs are full-spectrum and extracted using only purified water (more information).