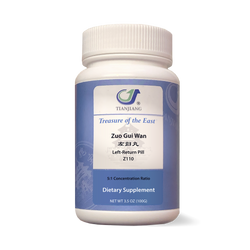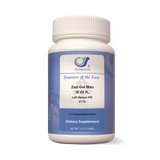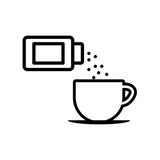 Zuo Gui Wan - 左归丸 - Left-Return Pill (Granules)
Log in to see prices
Full-spectrum, water-based herbal extract; concentrated 5:1 granules (100g/bottle).
Item Number: Z110
Chinese Name: 左归丸, Zuo Gui Wan
English Name: Left-Return Pill
Formula Principles:
Enriches kidney Yin, supplements essence, and boosts marrow
Ingredients:
| | |
| --- | --- |
| Shu Di Huang | Rehmannia Root (Processed) |
| Shan Yao | Dioscorea Rhizome |
| Gou Qi Zi | Goji Berry |
| Shan Yu Rou | Cornus Fruit (Processed) |
| Chuan Niu Xi | Cyathula Root |
| Tu Si Zi (Yan Zhi) | Dodder Seed |
| Lu Jiao | Antler |
| Gui Ban (Cu) | Tortoise Plastron (Processed) |
TCM Pattern:
Kidney Jing insufficiency, emptiness of essence and marrow due to liver and kidney Yin deficiency, atrophy disorder due to liver and kidney deficiency
Dosage:
Mix 4.5 g in hot water and drink as tea, 2-3 daily. 
Treasure of the East's herbal extracts are full-spectrum, water-based extracts produced by Tianjiang Pharmaceutical. Unlike standardized extracts, which contain a concentrated quantity of a single marker chemical, full-spectrum herbal extracts contain all the active chemical constituents of whole herbs in concentrated form.  Treasure of the East herbs are full-spectrum and extracted using only purified water (more information).