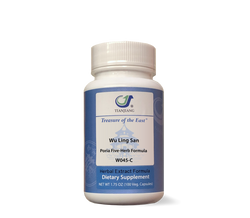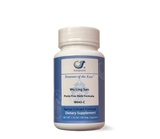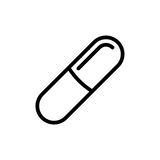 Wu Ling San - 五苓散 - Poria Five-Herb Formula (Capsules)
Log in to see prices
Full-spectrum, water-based herbal extract; concentrated 5:1 capsules (100 caps./bottle).
Chinese Name: 五苓散, Wu Ling San  
English Name: Poria Five-Herb Formula
Item Number: W045-c
Formula Principles:
Promotes urination, percolates Dampness, warms Yang and promotes Qi, strengthens the spleen, disperses water accumulation, promotes the transforming functions of Qi
Ingredients:
| | |
| --- | --- |
| Zhu Ling | Polyporus Mushroom |
| Ze Xie | Alisma Rhizome |
| Bai Zhu (Chao) | White Atractylodes Rhizome (Processed) |
| Fu Ling | Poria |
| Rou Gui | Cassia Bark |
TCM Pattern:
Water amassment syndrome due to dysfunction of bladder Qi transformation, spleen deficiency edema, lower Jiao retention of water
Also available as Granules.
Treasure of the East's herbal extracts are full-spectrum, water-based extracts produced by Tianjiang Pharmaceutical. Unlike standardized extracts, which contain a concentrated quantity of a single marker chemical, full-spectrum herbal extracts contain all the active chemical constituents of whole herbs in concentrated form.  Treasure of the East herbs are full-spectrum and extracted using only purified water (more information).