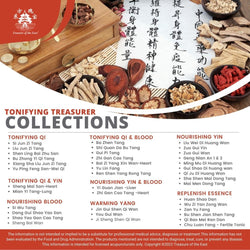 Tonifying Treasurer Collection
Log in to see prices
One of the greatest advantages of Chinese medicine is the ability to address the root of conditions by bringing balance to deficiencies within the body; to tonify. We have created this collection of formulas that support tonifying specific elements of the body for your convenience!
Tonifying Qi
SI JUN ZI TANG
LIU JUN ZI TANG
SHEN LING BAI ZHU SAN
BU ZHONG YI QI TANG
XIANG SHA LIU JUN ZI TANG
YU PING FENG SAN
Tonifying Qi & Yin
SHENG MAI SAN - HEART
MIAN YI TANG - LUNG (CAPSULES)
Nourishing Blood
SI WU TANG
DANG GUI SHAO YAO SAN
SHAO YAO GAN CAO TANG
SHENG BAI WAN
Tonifying Qi & Blood
BA ZHEN TANG
SHI QUAN DA BU TANG
GUI PI TANG
ZHI GAN CAO TANG
BAI ZI YANG XIN WAN - HEART
YU LIN FANG
REN SHEN YANG RONG TANG
Nourishing Yin & Blood
YI GUAN JIAN - LIVER
ZHI GAN CAO TANG - HEART
Warming Yang
JIN GUI SHEN QI WAN
YOU GUI WAN
JI SHENG SHEN QI WAN
Nourishing Yin
LIU WEI DI HUANG WAN
ZUO GUI YIN
ZUO GUI WAN
GENG NIAN AN 1 & 2
MING MU DI HUANG WAN
GUI SHAO DI HUANG WAN
QI JU DI HUANG WAN
SHA SHEN MAI DONG TANG
MAI MEN DONG TANG
Replenish Essence
HUAN SHAO DAN
WU ZI YAN ZONG WAN
ZAN YU FANG
BU SHEN JIAN SHEN TANG
QI BAO MEI RAN DAN
CHU LUAN FANG - FERTILE LONIC
* The information is not intended or implied to be a substitute for professional medical advice, diagnosis, or treatment. This information has not been evaluated by the Food and Drug Administration. The products mentioned are not intended to diagnose, treat, cure, or prevent any disease. This information is intended for licensed acupuncturists only.
Treasure of the East's herbal extracts are full-spectrum, water-based extracts produced by Tianjiang Pharmaceutical. Unlike standardized extracts, which contain a concentrated quantity of a single marker chemical, full-spectrum herbal extracts contain all the active chemical constituents of whole herbs in concentrated form.  Treasure of the East herbs are full-spectrum and extracted using only purified water (more information).