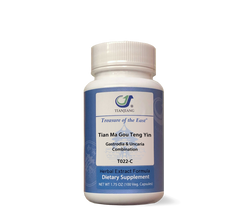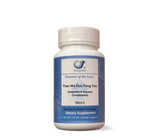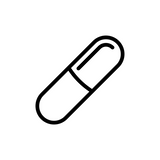 Tian Ma Gou Teng Yin - 天麻钩藤饮 - Gastrodia & Uncaria Combination (Capsules)
Log in to see prices
Full-spectrum, water-based herbal extract; concentrated 5:1 capsules (100 caps./bottle).
Item Number: T022-c
Chinese Name: 天麻钩藤饮, Tian Ma Gou Teng Yin
English Name: Gastrodia & Uncaria Combination
Formula Principles:
Calms the liver and extinguishes Wind, supports healthy blood pressure, clears Heat and invigorates blood, extinguishes Wind, tonifies the liver and kidneys, supports BP balance
Ingredients:
| | |
| --- | --- |
| Tian Ma | Gastrodia |
| Gou Teng | Uncaria Stem and Thorn |
| Shi Jue Ming (Duan) | Abalone Shell (Processed) |
| Zhi Zi | Gardenia Fruit |
| Huang Qin | Chinese Skullcap |
| Niu Xi | Achyranthes Root |
| Du Zhong (Yan Zhi) | Eucommia Bark (Processed) |
| Yi Mu Cao | Leonurus Herb |
| Sang Ji Sheng | Mistletoe Herb |
| Shou Wu Teng | Flowery Knotweed Stem |
| Fu Ling | Poria |
TCM Pattern:

Liver Wind stirring internally, liver Yin deficiency, blood pressure rising due to liver Yang rising
Also available as
Granules
.
Treasure of the East's herbal extracts are full-spectrum, water-based extracts produced by Tianjiang Pharmaceutical. Unlike standardized extracts, which contain a concentrated quantity of a single marker chemical, full-spectrum herbal extracts contain all the active chemical constituents of whole herbs in concentrated form.  Treasure of the East herbs are full-spectrum and extracted using only purified water (more information).