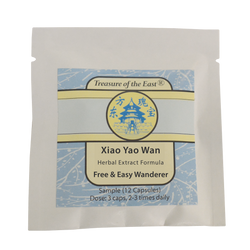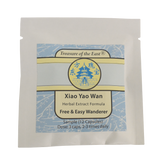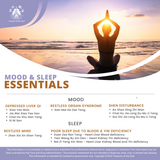 Sample of Xiao Yao Wan - 消遥丸 - Free & Easy Wanderer (Capsules)
Log in to see prices
Select up to 3 unique free samples with every order!  Please choose 1 of each variety.

Full-spectrum, water-based herbal extract; concentrated 5:1 capsules (12 caps./sample).
Chinese Name: 消遥丸, Xiao Yao Wan 
Alternate Name: Xiao Yao San
English Name: Free & Easy Wanderer
Item Number: SS-X105-c
Formula Principles:
Soothes the liver resolves constraint regulates mood, nourishes blood and fortifies the spleen, spreads liver Qi, harmonizes the liver and spleen
 Ingredients:
| | |
| --- | --- |
| Chai Hu | Bupleurum Root |
| Dang Gui | Chinese Angelica Root |
| Bai Shao (Chao) | White Peony Root (Processed) |
| Fu Ling | Poria |
| Bai Zhu | White Atractylodes Rhizome |
| Pao Jiang | Ginger (Blast-Fried) |
| Bo He | Mint Herb |
| Gan Cao (Mi) | Licorice Root (Processed) |
TCM Patten:
Depression due to liver constraint, blood deficiency and spleen weakness, liver and spleen disharmony, liver Qi stagnation with blood deficiency, Qi and blood stagnation, fatigue due to blood deficiency
Also available as 100g Granules and Granules in Bulk Packaging. 
Treasure of the East's herbal extracts are full-spectrum, water-based extracts produced by Tianjiang Pharmaceutical. Unlike standardized extracts, which contain a concentrated quantity of a single marker chemical, full-spectrum herbal extracts contain all the active chemical constituents of whole herbs in concentrated form.  Treasure of the East herbs are full-spectrum and extracted using only purified water (more information).