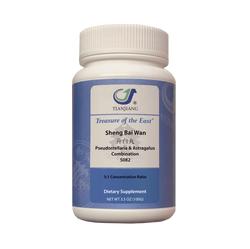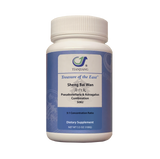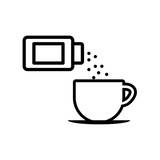 Sheng Bai Wan - 升白丸 – Pseudostellaria & Astragalus Combination (Granules)
Log in to see prices
Full-spectrum, water-based herbal extract; concentrated 5:1 granules (100g/bottle).
Chinese Name: 升白丸, Sheng Bai Wan
English Name: Pseudostellaria & Astragalus Combination
Item Number: S082
This modern formula is designed to address common Western conditions, and was selected for inclusion in our catalogue based on the efficacy of their use in TCM hospitals.*

Formula Principles:
Tonifies the kidney and spleen, supplements marrow and nourishes blood, supports immunity
Ingredients:
| | |
| --- | --- |
| Huang Qi (Mi) | Astragalus Root (Processed) |
| Tai Zi Shen | Pseudostellaria Root |
| Bai Zhu (Chao) | White Atractylodes Rhizome (Processed) |
| Chen Pi (Chao) | Tangerine Peel (Processed) |
| Ban Xia (Fa) | Pinellia Rhizome (Processed) |
| Shan Yao | Dioscorea Rhizome |
| Dang Gui | Chinese Angelica Root |
| Gou Qi Zi | Goji Berry |
| Nu Zhen Zi (Jiu Zhi) | Ligustrum Fruit (Processed) |
| He Shou Wu (Zhi) | Flowery Knotweed Root (Processed) |
| Huang Jing (Jiu Zhi) | Polygonatum Rhizome (Processed) |
| Zhi Mu | Anemarrhena Rhizome |
| Ji Xue Teng | Spatholobus Stem |
| Shi Wei | Pyrrosia Leaf |
| San Qi | Notoginseng Root |
| Da Zao | Jujube Fruit |
TCM Pattern:
Blood insufficiency caused by spleen and kidney weakness or by chemo or radiation therapy manifested with pale skin, fatigue, dizziness, and loss of appetite
Dosage:
Mix 4.5 g in hot water and drink as tea, 2-3 daily. 
Also available as Capsules. 
Treasure of the East's herbal extracts are full-spectrum, water-based extracts produced by Tianjiang Pharmaceutical. Unlike standardized extracts, which contain a concentrated quantity of a single marker chemical, full-spectrum herbal extracts contain all the active chemical constituents of whole herbs in concentrated form.  Treasure of the East herbs are full-spectrum and extracted using only purified water (more information).