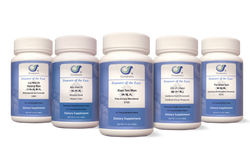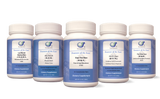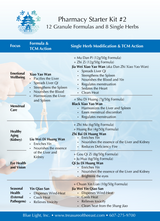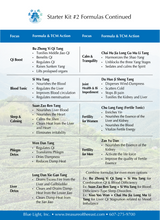 Pharmacy Starter Kit #2: Formulas & Modifications
Log in to see prices
The makings for a great in-house dispensary, this kit gives you the essentials to start prescribing and modifying granule formulas for most patients. The kit is comprised of twelve (12) granule herbal formulas and eight (8) granule single herbs that can be used alone or in combination.
Formulas:
Xiao Yao Wan - Emotional Wellbeing and Menstrual Care

Liu Wei Di Huang Wan - Healthy Aging (Kidney) and Eye Health

Yin Qiao San - Seasonal Health

Bu Zhong Yi Qi Tang - Qi Boost

Si Wu Tang - Blood Tonic

Suan Zao Ren Tang - Sleep and Calming

Wen Dan Tang - Phlegm Detox

Long Dan Xie Gan Tang - Liver Detox

Chai Hu Jia Long Gu Mu Li Tang - Calm and Tranquility

Du Huo Ji Sheng Tang - Joint Health and Bi Impediment

Chu Luan Fang (Fertile Tonic) - Fertility for Women

Zan Yu Fang - Fertility for Men
Single Herbs for Modifications:
Mu Dan Pi 

Zhi Zi

Shu Di Huang

Zhi Mu

Huang Bai

Gou Qi Zi

Ju Hua

Chuan Xin Lian
The informational handout provided with the kit summarizes the focus and TCM action of each formula as well as guidance on how to combine formulas and single herbs for additional options. This starter kit also includes an herb-filled pulse reading pillow.
Treasure of the East's herbal extracts are full-spectrum, water-based extracts produced by Tianjiang Pharmaceutical. Unlike standardized extracts, which contain a concentrated quantity of a single marker chemical, full-spectrum herbal extracts contain all the active chemical constituents of whole herbs in concentrated form.  Treasure of the East herbs are full-spectrum and extracted using only purified water (more information).