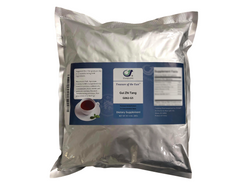 Gui Zhi Tang - 桂枝汤 - Cinnamon Twig Decoction (1kg/2.2lbs/foil bag)
Log in to see prices
Full-spectrum, water-based herbal extract; concentrated 5:1 granules (1kg/foil bag).
Each formula bulk foil bag comes with 10 small, sealable pouches to hold the custom formulas you prescribe to your patients. The label on each pouch has space to record important details of the formula including the patient's name, the date, and dosage instructions.
Item Number: G062-G5
Chinese Name: 桂枝汤, Gui Zhi Tang
English Name: Cinnamon Twig Decoction
Formula Principles: 
Releases Wind-Cold from exterior
Regulates and harmonizes the Ying and Wei*
Ingredients:
| | |
| --- | --- |
| Gui Zhi | Cinnamon Twig |
| Bai Shao | White Peony Root |
| Sheng Jiang | Ginger |
| Gan Cao (Mi) | Licorice Root (Processed) |
| Da Zao | Jujube Fruit |
TCM Pattern
Wing and Wei deficiency
Wind-Cold

 

Invasion
Tai Yang Zhong Feng
Dosage
Mix 4.5 g in hot water and drink as tea, 2-3 daily. 
Also available in 100g granules and capsules.
Treasure of the East's herbal extracts are full-spectrum, water-based extracts produced by Tianjiang Pharmaceutical. Unlike standardized extracts, which contain a concentrated quantity of a single marker chemical, full-spectrum herbal extracts contain all the active chemical constituents of whole herbs in concentrated form.  Treasure of the East herbs are full-spectrum and extracted using only purified water (more information).