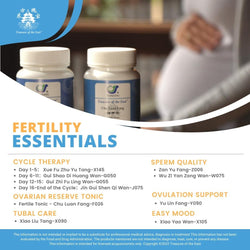 Fertility Essentials
Log in to see prices
This collection of formulas that promote fertility health makes a great addition to any herbal pharmacy!
Cycle Therapy
DAY 1-5: XUE FU ZHU YU TANG - X145

DAY 6-11: GUI SHAO DI HUANG WAN - G050

DAY 12-15: GUI ZHI FU LING WAN - G055

DAY 16-END OF THE CYCLE: JIN GUI SHEN QI WAN - J075
Ovarian Reserve Tonic
FERTILE TONIC - CHU LUAN FANG - F026
Tubal Care
Sperm Quality
ZAN YU FANG - Z006

WU ZI YAN ZONG WAN - W075
Ovulation Support
Easy Mood
* The information is not intended or implied to be a substitute for professional medical advice, diagnosis, or treatment. This information has not been evaluated by the Food and Drug Administration. The products mentioned are not intended to diagnose, treat, cure, or prevent any disease. This information is intended for licensed acupuncturists only.
Treasure of the East's herbal extracts are full-spectrum, water-based extracts produced by Tianjiang Pharmaceutical. Unlike standardized extracts, which contain a concentrated quantity of a single marker chemical, full-spectrum herbal extracts contain all the active chemical constituents of whole herbs in concentrated form.  Treasure of the East herbs are full-spectrum and extracted using only purified water (more information).