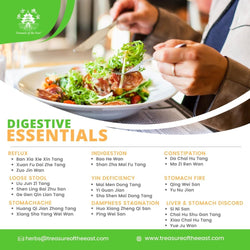 Digestive Essentials
Log in to see prices
A collection of formulas to support digestive health. Makes a great addition to any herbal pharmacy!
Reflux
BAN XIA XIE XIN TANG
XUAN FU DAI ZHE TANG
ZUO JIN WAN
Loose Stool
LIU JUN ZI TANG

SHEN LING BAI ZHU SAN

GE GEN QIN LIAN TANG
Stomachache
HUANG QI JIAN ZHONG TANG

XIANG SHA YANG WEI WAN
Indigestion
BAO HE WAN

SHAN ZHA MAI FU TANG
Yin Deficiency
MAI MEN DONG TANG

YI GUAN JIAN

SHA SHEN MAI DONG TANG
Dampness Stagnation
HUO XIANG ZHENG QI SAN

PING WEI SAN
Constipation
DA CHAI HU TANG

MA ZI REN WAN
Stomach Fire
Liver & Stomach Discord
SI NI SAN 
CHAI HU SHU GAN TANG
XIAO CHAI HU TANG
YUE JU WAN
* The information is not intended or implied to be a substitute for professional medical advice, diagnosis, or treatment. This information has not been evaluated by the Food and Drug Administration. The products mentioned are not intended to diagnose, treat, cure, or prevent any disease. This information is intended for licensed acupuncturists only.
Treasure of the East's herbal extracts are full-spectrum, water-based extracts produced by Tianjiang Pharmaceutical. Unlike standardized extracts, which contain a concentrated quantity of a single marker chemical, full-spectrum herbal extracts contain all the active chemical constituents of whole herbs in concentrated form.  Treasure of the East herbs are full-spectrum and extracted using only purified water (more information).