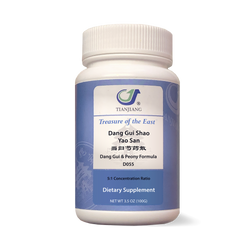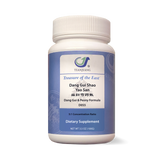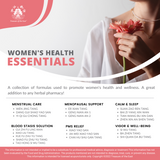 Dang Gui Shao Yao San - 当归芍药散 - Dang Gui & Peony Formula (Granules)
Log in to see prices
Full-spectrum, water-based herbal extract; concentrated 5:1 granules (100g/bottle).
Item Number: D055
Chinese Name: 当归芍药散, Dang Gui Shao Yao San
English Name: Dang Gui & Peony Formula
Formula Principles: 
Nourishes Liver Blood
Softens the Liver
Spreads Liver

 

Qi
Strengthens the Spleen
Resolves Dampness
Reinforces the Spleen and Kidney*
Ingredients:
| | |
| --- | --- |
| Dang Gui | Chinese Angelica Root |
| Bai Shao | White Peony Root |
| Chuan Xiong | Chuanxiong Rhizome |
| Fu Ling | Poria |
| Bai Zhu | White Atractylodes Rhizome |
| Ze Xie | Alisma Rhizome |
TCM Pattern
Abdominal pain due to Liver and Spleen Disharmony
Abdominal pain due to Spleen and Kidney Deficiency
Hypofunction of the Liver and Spleen with Stagnation of Blood and

 

Qi

 

Stagnation due to Dampness
Dosage
Mix 4.5 g in hot water and drink as tea, 2-3 daily. 
Also available as Capsules. 
Treasure of the East's herbal extracts are full-spectrum, water-based extracts produced by Tianjiang Pharmaceutical. Unlike standardized extracts, which contain a concentrated quantity of a single marker chemical, full-spectrum herbal extracts contain all the active chemical constituents of whole herbs in concentrated form.  Treasure of the East herbs are full-spectrum and extracted using only purified water (more information).