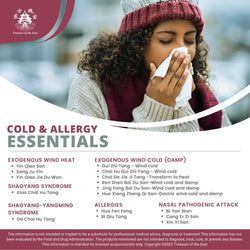 Cold & Allergy Essentials
Log in to see prices
This collection of formulas that support cold & allergy health makes a great addition to any herbal pharmacy!
Exogenous Wind Heat
YIN QIAO SAN
SANG JU YIN
YIN QIAO JIE DU WAN
Shaoyang Syndrome
Shaoyang-Yangming Syndrome
Exogenous Wind Cold (Damp)
GUI ZHI TANG - WIND COLD 
CHAI HU GUI ZHI TANG - WIND COLD
CHAI GE JIE JI TANG - TRANSFORM TO HEAT
REN SHEN BAI DU SAN - WIND COLD AND DAMP
JING FANG BAI DU SAN - WIND COLD AND DAMP
HUO XIANG ZHENG QI SAN - GASTRIC WIND COLD AND DAMP
Allergies
Nasal Pathogenic Attack
BI YAN WAN
CANG ER ZI SAN
XIN YI SAN
* The information is not intended or implied to be a substitute for professional medical advice, diagnosis, or treatment. This information has not been evaluated by the Food and Drug Administration. The products mentioned are not intended to diagnose, treat, cure, or prevent any disease. This information is intended for licensed acupuncturists only.
Treasure of the East's herbal extracts are full-spectrum, water-based extracts produced by Tianjiang Pharmaceutical. Unlike standardized extracts, which contain a concentrated quantity of a single marker chemical, full-spectrum herbal extracts contain all the active chemical constituents of whole herbs in concentrated form.  Treasure of the East herbs are full-spectrum and extracted using only purified water (more information).