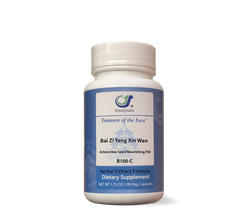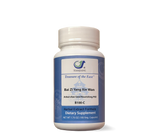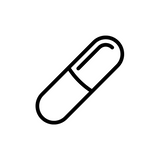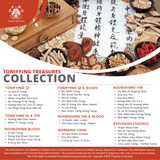 Bai Zi Yang Xin Wan - 柏子养心丸 - Arborvitae Seed Nourishing Pill (Capsules)
Log in to see prices
Full-spectrum, water-based herbal extract; concentrated 5:1 capsules (100 caps./bottle).
Item Number: B100-c
Chinese Name: 柏子养心丸, Bai Zi Yang Xin Wan
English Name: Arborvitae Seed Nourishing Pill
This modern formula is designed to support the Western common conditions. It is selected based on the efficiency of the TCM hospital use.*
Formula Principles: 
Reinforces and Strengthens Heart Qi
Calms the Spirit
Nourishes

 

the Heart Blood *
Ingredients:
| | |
| --- | --- |
| Bai Zi Ren | Arborvitae Seed |
| Chuan Xiong | Chuanxiong Rhizome |
| Dang Gui | Chinese Angelica Root |
| Dang Shen | Codonopsis Root |
| Fu Ling | Poria |
| Gan Cao (Mi) | Licorice Root (Processed) |
| Huang Qi (Mi) | Astragalus Root (Processed) |
| Liu Shen Qu | Medicated Leaven (Processed) |
| Rou Gui | Cassia Bark |
| Suan Zao Ren (Chao) | Spiny Jujube Kernel (Processed) |
| Wu Wei Zi (Cu) | Schisandra Berry (Processed) |
| Yuan Zhi (Zhi) | Polygala Root (Processed) |

TCM Pattern
Blood Deficiency  with a weak constitution 
Also available as Granules. 
Treasure of the East's herbal extracts are full-spectrum, water-based extracts produced by Tianjiang Pharmaceutical. Unlike standardized extracts, which contain a concentrated quantity of a single marker chemical, full-spectrum herbal extracts contain all the active chemical constituents of whole herbs in concentrated form.  Treasure of the East herbs are full-spectrum and extracted using only purified water (more information).