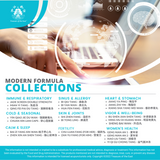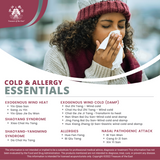 Bi Yan Wan - 鼻炎丸 - Coix & Mentha Combination (Capsules)
Log in to see prices
Full-spectrum, water-based herbal extract; concentrated 5:1 capsules (100 caps./bottle).
Item Number: B080-c
Chinese Name: 鼻炎丸, Bi Yan Wan
English Name: Coix & Mentha Combination
This modern formula is designed to address common Western conditions, and was selected for inclusion in our catalogue based on the efficacy of their use in TCM hospitals.*

Formula Principles:
Releases the Exterior
Clears Heat and Resolves toxicity
Unblocks the nasal passages
Dries Dampness in the head
Dispels pus 

 

*
Ingredients:
| | |
| --- | --- |
| Bai Zhu (Chao) | White Atractylodes Rhizome (Processed) |
| Bai Zhi | Dahurian Angelica Root |
| Bo He | Mint Herb |
| Cang Er Zi (Chao) | Xanthium Fruit (Processed) |
| Fang Feng | Saposhnikovia Root |
| Huang Qi | Astragalus Root |
| Xin Yi | Magnolia Flower |
TCM Pattern
Nasal Wind Heat

Nasal obstruction caused by Damp-Heat
Also available as Granules. 
Treasure of the East's herbal extracts are full-spectrum, water-based extracts produced by Tianjiang Pharmaceutical. Unlike standardized extracts, which contain a concentrated quantity of a single marker chemical, full-spectrum herbal extracts contain all the active chemical constituents of whole herbs in concentrated form.  Treasure of the East herbs are full-spectrum and extracted using only purified water (more information).