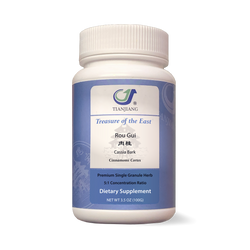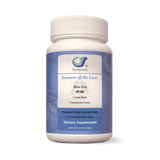 Rou Gui - 肉桂 - Cassia Bark
Log in to see prices
Full-spectrum, water-based herbal extract; concentrated 5:1; granules (100g/bottle).
Chinese Name:
肉桂, Rou Gui
English Name:
Cassia Bark
Latin Name:
Cinnamomi Cortex
Certifications:
 Kosher, Halal
Properties:Acrid, sweet, very hot
Functions:Supplements fire, assists yang, conducts fire to return to its source, scatters cold, relieves painful stasis, invigorates blood, frees channels. Warms spleen and stomach, eliminates cold accumulation, frees blood and veins.
Treasure of the East's herbal extracts are full-spectrum, water-based extracts produced by Tianjiang Pharmaceutical. Unlike standardized extracts, which contain a concentrated quantity of a single marker chemical, full-spectrum herbal extracts contain all the active chemical constituents of whole herbs in concentrated form.  Treasure of the East herbs are full-spectrum and extracted using only purified water (more information).