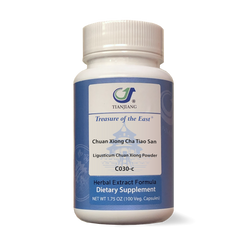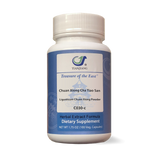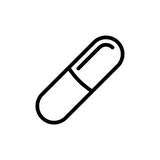 Chuan Xiong Cha Tiao San - 川芎茶调散 - Ligusticum Chuan Xiong Powder (Capsules)
Log in to see prices
Full-spectrum, water-based herbal extract; concentrated 5:1 granules (100 caps. /bottle).
Item Number: C030-c
Chinese Name: 川芎茶调散, Chuan Xiong Cha Tiao San
English Name: Ligusticum Chuan Xiong Powder
Formula Principles: 
Dispels Wind
Alleviates headaches*
Ingredients:
| | |
| --- | --- |
| Chuan Xiong | Chuanxiong Rhizome |
| Jing Jie | Schizonepeta Herb |
| Bai Zhi | Dahurian Angelica Root |
| Qiang Huo | Notopterygium Rhizome and Root |
| Gan Cao | Licorice Root |
| Fang Feng | Saposhnikovia Root |
| Bo He | Mint Herb |
| Xin Yi | Magnolia Flower |

TCM Pattern

Headaches related to external wind

Externally contracted wind-cold.
Dosage
Mix 4.5 g in hot water and drink as tea, 2-3 daily. 
Treasure of the East's herbal extracts are full-spectrum, water-based extracts produced by Tianjiang Pharmaceutical. Unlike standardized extracts, which contain a concentrated quantity of a single marker chemical, full-spectrum herbal extracts contain all the active chemical constituents of whole herbs in concentrated form.  Treasure of the East herbs are full-spectrum and extracted using only purified water (more information).